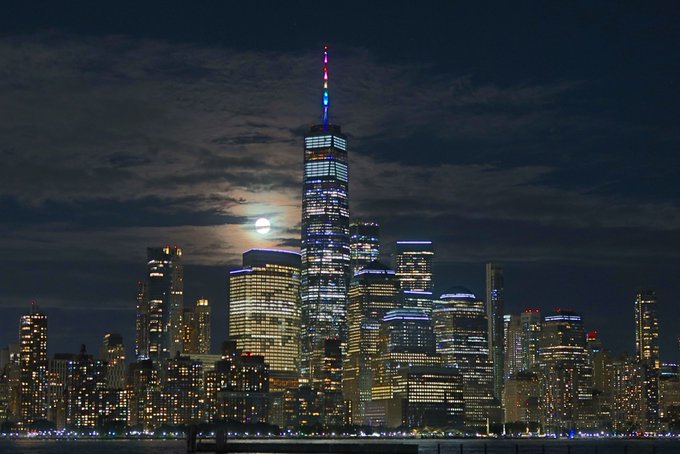 The Super Strawberry Moon rises behind lower Manhattan and One World Trade Center in New York City, Thursday evening.
The Strawberry Moon marks the last Full Moon of the spring season and the first Full Moon of the summer. The summer season began in the northern hemisphere with the Solstice on June 21, which marked the longest day of the year. Netizens have shared several majestic pictures of the beautiful Strawberry Moon on Twitter. Take a look: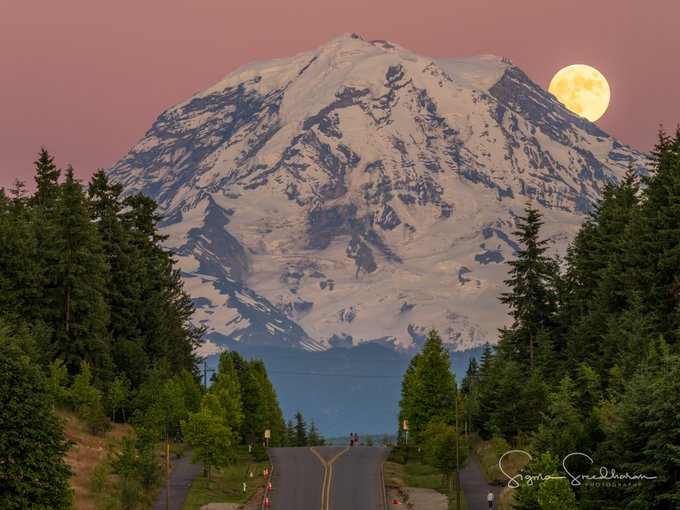 Strawberry moon rising behind Mount Rainier

In India, the Strawberry Moon was best visible on the midnight of June 25, at about 12:09 AM. Full Moons have captured the imagination of people since time immemorial and they have been named according to local cultures around the world - particularly in Europe and the Americas.
The Moon rises as a Metrorail car crosses the Potomac River in Washington D.C. on July 16, 2019
The June Full Moon has been named the Strawberry Moon, Mead Moon or Rose Moon. For Hindus in India, this Full Moon is called Vat Purnima and married women offer prayers to the Banyan Tree. In Odisha, it is called the Deva Snana Purnima, when Snana Yatra of Lord Jagannath Takes place.
A Strawberry Moon over the Temple of Poseidon at Cape Sounion in June 2019.
Full Moons are opposite the Sun. According to NASA, "a Full Moon near the Summer Solstice will be low in the sky. Particularly for Europe's higher latitudes, when the Full Moon is low it shines through more atmosphere, making it more likely to have a reddish colour." In the Washington DC area, the Full Moon will be "only 24.6 degrees above the southern horizon, the lowest Full Moon of the year," says the NASA.
WHY IS IT CALLED STRAWBERRY MOON?
The Strawberry Moon marks the last Full Moon of the Spring season.
The Moon that marks the beginning of the summer season usually sits in a lower position in the sky towards the end of June. According to Nasa, it shines through more of our atmosphere and can sometimes give off a pinkish hue. However, the name has more to it than just the pinkish hue.
WHY IS IT A SUPERMOON?
Strawberry marks the beginning of the summer season and the places around equator experience the longest day of the year at this time. Credit: AFP Photo
A supermoon occurs when the Full Moon coincides with the Moon's closest approach to Earth in its elliptical orbit. This position is called perigee and in its 27-day orbit around Earth, the Moon is at the closest distance to Earth at 3,63,711 kilometres. In this phase, the Moon appears larger and brighter than usual.
The June 24 Supermoon is the last supermoon of 2021 and according to Nasa, "It only happens three to four times a year, and always appears consecutively." The last three Supermoons occurred on March 28, April 27 and May 26.